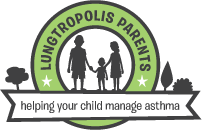 Asthma Basics
Asthma Action Plan
Your child's plan will include:
The name, dosage, and timing of your child's medicines
Your child's triggers
Emergency contact information, such as your doctor's phone number and your phone number
What to do when your child's asthma symptoms first appear
What to do in a breathing emergency
If your child gets an infection, he'll generally get better with medicine. But asthma is a chronic disease—the most common chronic illness among children. It does not go away, even when your child is feeling fine.
What happens during an asthma attack?
During an asthma attack, or "episode," the airways in your child's lungs get swollen and narrowed and produce more mucus. An asthma episode usually starts when your child's airways over-react to an asthma "trigger," something that makes your child's symptoms worse. This makes it more difficult for her to breathe. Your child's health care provider will help you and your child figure out what triggers are most bothersome for her. Your provider may also give your child medicine to treat asthma episodes and to prevent symptoms.
Your child can stay active.
Your child has to live with asthma, but asthma should not stop him from living an active, healthy life. He can swim in a pool, shoot hoops, or run around a soccer field as long as his lungs are kept healthy and strong. Your child's health care provider will work with you to make sure his asthma is kept in good control.
Create an Asthma Action Plan.
At your child's regular asthma checkups, be prepared to ask questions. Listen to your health care provider's instructions and advice, and take notes so you don't have to worry about forgetting anything later. Together, you can create an Asthma Action Plan.
You can use the action plan daily to manage your child's asthma. You should also give copies to the other adults who provide care for your child. Your child's day care provider, teacher, school nurse, or grandparents may be important members of your asthma action team. They should know the warning signs of an oncoming asthma episode, and they should know how to help your child during a breathing emergency.