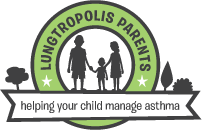 Managing Asthma
When your child's asthma is under control, you won't see a difference between him and his playmates. He'll be able to race his friends at the playground or pitch a perfect game. His symptoms won't appear often, or they won't appear at all.
The information in this section will help you understand how to help control your child's asthma. You'll be able to answer questions to determine how well your child's asthma is controlled. You'll also learn about the most common medicines that are prescribed for good asthma management.
Find out how to help your child manage the disease.

Learn about control and quick-relief asthma medicines.

Get tips on what to do when asthma makes your child sick.