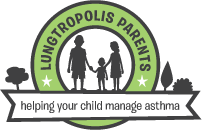 Asthma Medicines
Take as Directed
An inhaler is a common way to deliver quick-relief medicines.
Talk to Your Child
Here's a simple way to explain taking asthma medicine to your child: "Your doctor may give you one or two asthma medicines. It's important that you use them as the doctor tells you. If the doctor gives you a control medicine, you have to take it every day, even when you're feeling OK. The quick-relief medicine, like an inhaler or nebulizer, will help when you're having asthma symptoms, such as coughing, wheezing or difficulty breathing. You should always know how to get your quick-relief medicine when you need it."
Every child with asthma will get prescribed medicines. These medicines will vary, though, depending on the child and the severity of her asthma. But whatever medicine(s) your doctor prescribes, it is crucial that she take them exactly as directed. It's easy to forget and skip a dose of medicine when she's feeling good, but that medicine may be the reason that she is feeling good in the first place!
Take our Medicine Quiz to get answers about your child's medicines.
Quick-relief medicines are used to relieve asthma symptoms.
Your health care provider may have prescribed medicine to use when your child is wheezing or struggling to catch his breath. These types of asthma medicines, called quick-relief medicine, are used when asthma symptoms flare up or in an asthma emergency. They are usually inhalers, and the medicine inside the inhaler works fast to loosen the muscles around the airways. This medicine can also be taken with a nebulizer.
Control medicines help prevent asthma symptoms from occurring.
Some children with asthma may be prescribed an asthma medicine called control medicine, and it has to be used daily in order for it to be effective. Control medicine works by helping to prevent asthma symptoms. When taken every day, it can help keep asthma in good control.
Talk to your child's health care provider about all prescriptions.
You should understand why your health care provider has or has not prescribed control medicines for your child's asthma. Make sure you understand how often and how your child is to take the medicines your provider prescribes. And just like with other medicines, it is important that you speak to your child's health care provider before your child stops it.
Teach your child how to use asthma medicines.
It's important that your child learn how to use asthma medicine distribution delivery devices—inhalers, nebulizers, diskus, and spacers —properly. Ask your doctor or someone in your doctor's office to watch as your child uses a device. They can help make sure your child is using the inhaler or nebulizer correctly. Ask them to check your child's technique and give tips for improving it if needed.