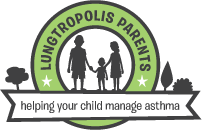 Empowering Your Child
The wobbly first steps of a toddler. Crayon lines that resemble his name. You've already watched your child achieve a number of milestones, each one making him more independent and confident. When you teach your child how to manage his asthma, you're helping him reach one of the most important milestones of his life.
Use the resources in this section to help your child confidently take control of his asthma.
Discover ways to teach your child how to take control of her asthma.

Learn how to help your child feel comfortable talking about asthma symptoms and triggers.

Find out how this fun game can teach your child how to manage asthma.